It's that time again - Ninja of the Week! We scoured the internet this week to find you the best ninjas around, be it person or... non-person. So without further ado... here's our Top 5!
5. CAROL GRACIAS
Sometimes the best ninjas hide in plain sight - like
Indian supermodel Carol Gracias
, who was on the runway this week sporting a baby bump. We're convinced when this baby comes out, it'll be wearing a ninja robe and sporting sais.
4. NORTH KOREA
Sometimes, when you're a ninja, the opportunity to sneak up has passed, and you need to use brute force to get the job done. And that's just
what North Korea did this week
- they blocked Facebook, Twitter, and YouTube for all it's 24.45 million residents. That's some mass ninjaing right there. Hopefully they can still see our blog...
3. MARK ZUCKERBERG
Everyone knows what a ninja looks like, right? Well, I mean, right before the ninja slices and dices you... It's because a ninja wears the same thing every day. You know who else wears the same thing every day?
Mark freaking Zuckerberg
, head of Facebook. Is this a coincidence? WE THINK NOT. Now Mark is letting you dress like a ninj-- uh, like him, with his new line of clothing.
2. THIS NAVY FIGHTER JET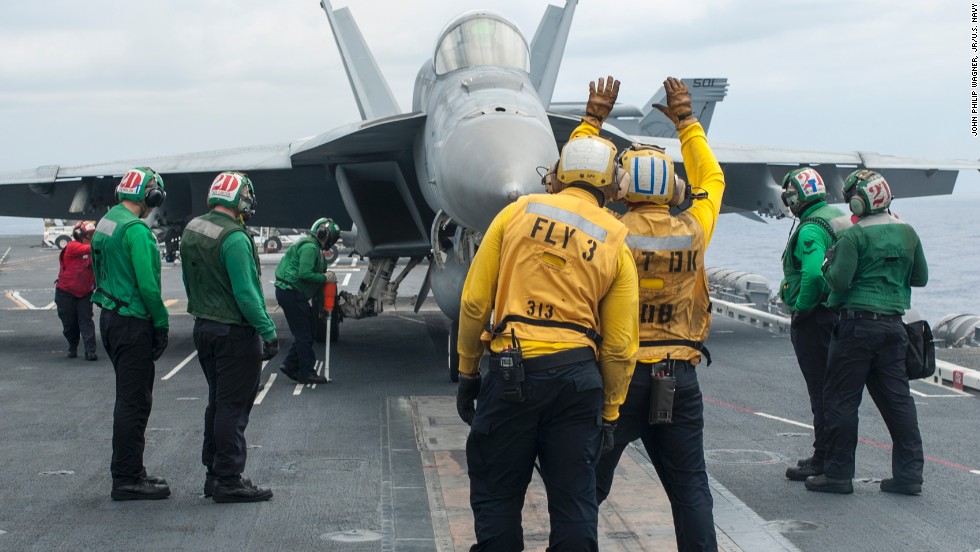 Sometimes, a ninja can wait for its prey to come to it, instead of tracking and sneaking. And that's just what this
ninja fighter jet in Fresno, CA did for local police
. It waited in just the right spot to thwart crooks on a car chase, who crashed into the jet while fleeing.
Ninja'd!
1. IOWA STATE FOOTBALL PLAYERS
This is what a group of heroes look like. Jumped in and saved someone from drowning in their car. God bless.

pic.twitter.com/K7AqG64KtQ

— ISU WOPA (@ISUWOPA) March 17, 2016
And finally, at #1 this week, these three
Iowa State football players
saved a woman from drowning in her car by breaking the windshield with their bare hands and getting her lifted out to safety in less than a minute! There's no way these guys aren't ninjas on the side.
Thanks for reading, tune in next week, and be sure to nominate your own Ninja of the Week in the comments below!!